Discover What's New in AgileTest Release 1.0.21-AC : Brand-new UI-UX This October 2023!
Welcome to the next phase of the AgileTest journey: Version 1.0.21-AC designed for Jira Cloud. In this update, we are excited to introduce a significant overhaul of our user interface and user experience. With this latest release of UI-UX, we are committed to providing a more robust testing management solution for your projects.
Ascendant and Descendant Sorting
One of the standout features of our October release is Ascendant and Descendant Sorting. This functionality streamlines the management of your test data, making the process effortless. Now, you can easily arrange your issue keys, summaries, and titles in alphabetical order, both ascending and descending. This feature ensures that your test data is always accessible in a manner that suits your requirements.

Enhanced Control with Reorder Column Positions
To further enhance convenience, we introduce the ability to Reorder Column Positions. This means you can tailor your workspace to precisely align with your project's demands, ensuring that critical information is exactly where you need it.

Simplify Your Workspace with Column Management
For those who prefer a clutter-free workspace, our new Column Management feature is designed with our users in mind. It empowers you to show, hide, or resize columns effortlessly, granting you complete control over your data view.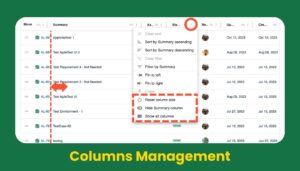 Customize Your Display with Density Settings
Now, let's talk about customization. We understand that every user has unique workspace preferences. With AgileTest's Density feature, you can adjust the display density to match your preference, whether you prefer a spacious or compact layout.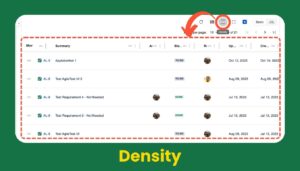 Effortless Data Retrieval with Filters
We also recognize the importance of quickly finding specific data. That's why we've introduced Filters. With just a few clicks, you can filter your data to focus on what's most relevant to your project, making data retrieval more efficient.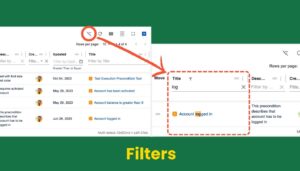 Dive into Data with Full-Screen Mode
And for those occasions when you need to delve deeply into your data, we have you covered with Fullscreen mode. It offers a distraction-free environment, perfect for in-depth analysis.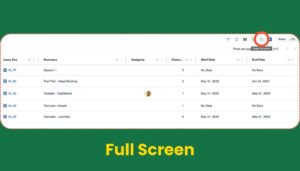 Conclusion: Tailoring Your AgileTest Experience
These updates are all about giving you the power to customize your AgileTest experience to your preferences, streamlining your workflow, and enhancing efficiency. So, why wait? Head over to the Atlassian Marketplace and elevate your project's test management journey with AgileTest today.
With these exciting new features, AgileTest is now more user-friendly and efficient than ever before. Our commitment is to provide you with the tools necessary to simplify your testing processes. We're excited to witness how these updates will benefit your team's testing efforts. Thank you for choosing AgileTest, and we eagerly anticipate supporting your Agile testing journey!
To learn more about Agile, check out this video ! 
For more information about agile testing, check out more videos from the AgileTest Academy series.
If you love the testing experiences, try our app on the Atlassian Marketplace!