We're excited to announce the release 1.0.7 of our testing tool AgileTest, which comes with several improvements and bug fixes to enhance the overall user experience.
One of the most significant improvements in this release is the Test script list UI. We've made several enhancements to make it more user-friendly, with an updated layout and better organization. This improvement will make it easier for users to navigate and manage their test scripts efficiently.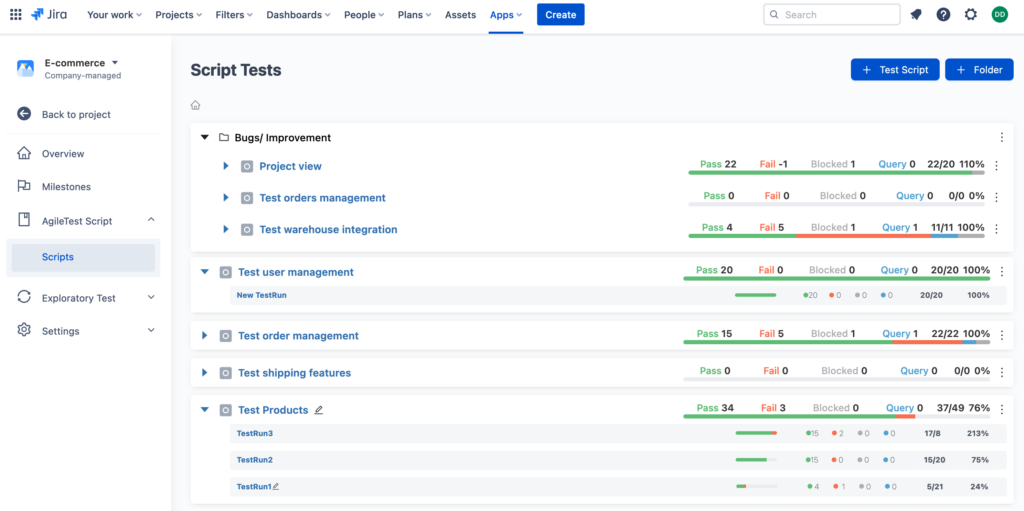 Another improvement is the bulk update for test run items. With this feature, users can now update multiple test run items at once, saving time and effort. This improvement streamlines the process and allows for more efficient testing.
In addition, we've also added the ability to open issue dialog in Test script, which will allow users to report any issues they encounter while testing more easily. This improvement will enable better collaboration between team members and ensure that any issues are resolved quickly.
We've also addressed several bugs that were identified in previous versions of the tool. One such bug was the clear test run issue, which has been fixed in this release. Another bug fix was related to test run results not syncing correctly, which could cause confusion and errors in testing. We've also fixed a bug where changing tabs while saving could cause the wrong result calculation.
Finally, we've made several minor UI fixes to improve the overall look and feel of the tool. These improvements include addressing issues with buttons and labels that were not displaying correctly.
We're confident that these improvements and bug fixes will enhance the overall user experience, making testing more efficient and effective. As always, we welcome your feedback on this latest release and encourage you to share your thoughts with us. Thank you for choosing our testing tool, and we look forward to your continued support.